Dallas based actress Wendy Pennington contacted me the other day about shooting marketing photos for a gang of silly, talented actors known as Improv Dallas Comedy Troupe aka ID Improv.
I love silly.
I love shooting marketing photos.
I love working with on-camera professionals.
Needless to say, I was looking forward to the shoot.
We started their photo shoot by updating a jump shot they currently have on their site. I did this by capturing them in two different groups then merging the photos together.
The best part about working with professional actors is that they are up for anything, and they bring (the right) energy to the photos.  After we captured 15 or 20 jumping shots, we decided to experiment with a few other ideas.
This arm in arm jumping shot was one of my favorites.  I think it was one of Wendy's favorites too because its the very first photo you see on the Improv Dallas website.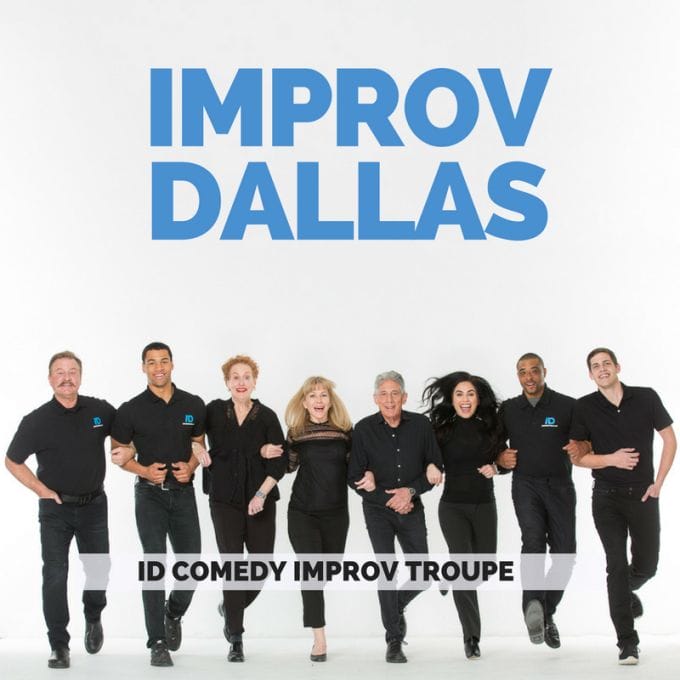 After we finished a few different group shots everyone was standing on set chatting and I got inspired!
I had each member step forward for a highlight shot while letting the rest of the crew fall out of focus in the background.  I'm super happy with the way they turned out. I love how you can see each members personality in the photos.
Wendy offers Improv training at my studio a few nights a week.  If you are an actor or are interested in acting and you would like to sharpen your quick witted skills, I highly recommend checking out Wendy's class.
To learn more about ID Comedy Improv Troupe or Improv classes click here.
Need an Actor Headshot?   My assistant Emilee can answer your questions and set you up with an appointment.  Just send her an email.
See more of my headshot work here.
Cheers!
Kelly